[et_pb_section fb_built="1″ _builder_version="3.23.3″][et_pb_row _builder_version="3.25″ column_structure="3_4,1_4″][et_pb_column type="3_4″ _builder_version="3.25″ custom_padding="|||" custom_padding__hover="|||"][et_pb_text _builder_version="3.27.4″ header_font="||||||||" header_text_align="center" header_font_size="52px"]
"I Know Who You Are…"

     

     

                                 

             

 
by Aaron T. Murphy 
When you need it the most, encouragement can come from places you least expect it. As a child, I never really understood and fully believed in angels until a recent encounter with a complete stranger that has impacted my life forever. Last year, I tore my achilles while playing basketball and was unable to walk for 3 months. Once my doctor fully released me to return to the office on crutches, I struggled both physically and mentally for some time. I was at a point of deep depression and my wife, family and friends did their best to motivate me to keep moving forward in life while serving others. 
During one very difficult day while leaving the office on crutches, a homeless man (whom I've never seen before) comes out of nowhere and approaches me. He doesn't ask for anything which is unusual in my line of work. Instead, he looks me in the face and says – "I know who you are… I know exactly who you are…" At this point, many thoughts are running across my mind and I wanted to find a way to escape. He pulls out a Bible from one of his bags and reads the story of the Good Samaritan (Matt. 10:25-37). The man stops and says – "That's you… I see all the good work Good Sam does in the community for others." "The city and my people thank you and the Lord is pleased with you…" "Keep up the good work and moving forward!" He then disappears while walking down the street never to be seen again.
Many times, we fail to realize who God may send our way to encourage us in times of need. The Bibles says – "Do not forget to show hospitality to strangers, for by so doing some people have shown hospitality to angels without knowing it" (Hebrews 13:2). Thank you Lord for sending encouragement when we needed it the most. You know how to give the right words at the right time to keep us moving forward in life and serving others. It is truly a blessing to be a part of God's Kingdom and have opportunities to share the love of Jesus Christ with our neighbors in need. We serve an awesome God who loves us all unconditionally.
Thank you for trusting us to be your missionaries here in Upper East Tennessee.  
[/et_pb_text][/et_pb_column][et_pb_column type="1_4″ _builder_version="3.25″ custom_padding="|||" custom_padding__hover="|||"][et_pb_text _builder_version="4.0.3″ background_color="#e0ccb3″ custom_padding="|8px||8px|true|true" hover_enabled="0″ text_text_color="#000000″]
The Love of Jesus Christ IS OUR #1 Product!
Social Services
Monday – Friday
8:30 am – 3:30 pm
Good Sam Thrift Store
Monday – Friday
10 am – 4 pm
Saturday 10 am – 2pm
Counseling Center 
Monday, Tuesday, Friday 
By Appointment 
Melting Pot
Monday – Friday 
Breakfast 8 am 
Lunch 10:45 am
Saturday  
Breakfast 8:30 am  
Summer Food Distribution
May 30th, 9am
June 27th,  9am
July 25th, 9am 
[/et_pb_text][/et_pb_column][/et_pb_row][/et_pb_section][et_pb_section fb_built="1″ _builder_version="3.23.3″ custom_margin="-46px||-46px||true"][et_pb_row _builder_version="3.25″ column_structure="1_2,1_2″][et_pb_column type="1_2″ _builder_version="3.25″ custom_padding="|||" custom_padding__hover="|||"][et_pb_text _builder_version="3.27.4″]

BECOME A LINK THIS SUMMER
Poverty doesn't just affect the homeless veteran but also the hardworking families who are trying their best to provide for their families. This is why we focus our efforts on partnering with families in combating poverty and changing lives. Did you know that 5 out of 6 kids who rely on free or reduced-priced school meals aren't getting free meals in the summer? Our Summer Food Program addresses hunger in the household by not only focusing on kids but the family structure. We provide families food boxes during the summer months, but we also ensure that the children are enrolled in our Back 2 School Program in which they receive new clothing and school supplies for the new year. 
Research has also shown that families spend $300 more when school is out. Life as a single mother can be difficult. Instead of worrying about earning extra income for food, clothing and school supplies for her young children, our friend Jessica was able to focus on her schooling for the past two years. Jessica graduated from Community College and received an Associates Degree in Nursing. The Summer Food and Back 2 School Programs are for incredible people like Jessica who just need a helping hand as they lift themselves out of the grips of poverty. We need your help so we can serve more families this summer! 
[/et_pb_text][/et_pb_column][et_pb_column type="1_2″ _builder_version="3.25″ custom_padding="|||" custom_padding__hover="|||"][et_pb_text _builder_version="3.27.4″][/et_pb_text][et_pb_text _builder_version="3.27.4″ custom_margin="-28px|-1px|-28px|-1px|true|true" custom_padding="0px|0px|0px|0px|true|true"]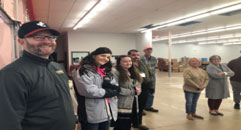 Be A

GOOD

SAM

Advocate
CONDUCT A FOOD DRIVE: Pick a Food item to collect and turn in items by May 20th, June 17th or July 15th.
We need items such as corn, mac&cheese, sweet potato, jelly, and peanut butter. 
CONDUCT A SCHOOL SUPPLY DRIVE: Pick a School Supply item to collect and turn in items by May 31th, June 28th or July 19th.
DONATE: Summer Food Program – $35 covers the cost on one food box. $105 covers a food box for a family for the entire summer. 
Back 2 School Program – $35 dollars covers the cost of a backpack and school supplies for each child. $150 covers a Back 2 School box 
VOLUNTEER: Pack Summer Food Boxes and Back 2 School Boxes
Serve Meals at the Melting Pot
Volunteer weekly with our Social Services Department
For any questions or concerns, please contact Programs at (423) 928-1958 or programs@goodsamjc.org. 
[/et_pb_text][/et_pb_column][/et_pb_row][/et_pb_section]